Best Package for FET NEET-SS DHA for Obstetrics Gynecology Superspecialities Fertility medicine reproductive medicine gynecological oncology INICET SS SR ship exams
Combines MCQ Recall Mock exam Question Bank course and High Yield Videos Crash Course
1. MCQ mock exam course for NEET-SS FNB Obstetrics Gyneacology superspecialities,gyecological oncology reproductive medicine.
Course Features -
Several short mini mock MCQ series with unlimited attempts
You may attempt these any number of times. It has been specially designed to give adequate practice with sufficient time.
Grand Mocks - timed with limited attempts to simulate exam. They are limited so as to give you the real feel of the exam.
Now also with Random mock generator tool -Creates randomized mocks any number of times
Real exam interface simulation
Solved recall questions also added
Answers with explanation
Largest question bank with 1000+ questions
High yield notes on selected important topics - online only
Access anytime anywhere online
Online Content, No Hard Copy.
Helpful to get high ranks FNB and NEET-SS exams
Accessible by android app/ios
2. NEET-SS FNB Obstetrics Gynecology Video Crash Course
Course contents created by NEET-SS Topper Dr. Garima Sachdeva
13 hours Video content
High yield Lecture Video on Important topics for the upcoming FET Neet SS obstetrics & gyneacology
Recalls from previous exams also discussed
Covers important topics in Obg, Reproductive Medicine and Gyneacologic Oncology
Useful for gaining skills to crack NEET-SS FNB Exams
- access from Android App/ iOS
Topics covered -
Spermatogenesis and Capacitation
High yield topics on reproductive medicine
Kisspeptin
Folliculogenesis and Oogenesis
High yield topics in gynecological oncology
Hormonal Control of Menstrual cycle
Semen Analysis
Basics of Infertility
Menstrual Cycle
Evaluation of Infertile Male
Azoospermia
Male Infertility
Ovulation Induction
Sperm Function Test
Letrozole and Gonadotropin
PCOS
IVF Stimulation Protocols
Oocyte retrieval
GNRH Analogues
Triggers and EFS
Important Trials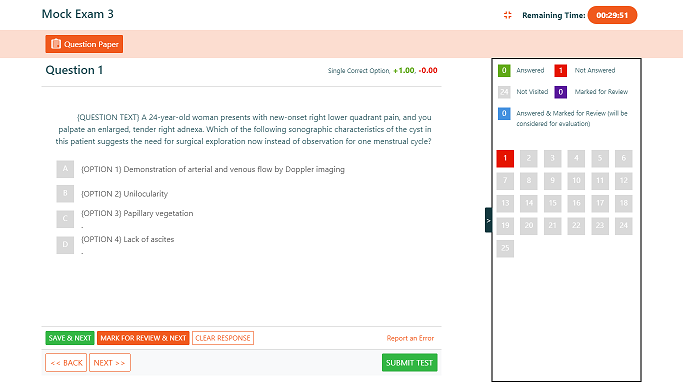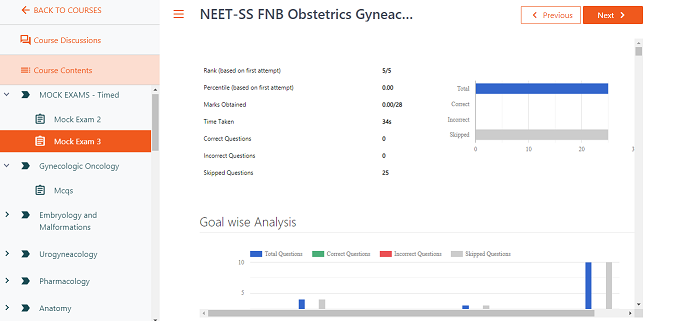 Disclaimer - Mentorexam is not affiliated to DNB or NBE or NMC. These questions are representative of real exam and are not claimed to be from the real exam, any resemblance is coincidental and Mentorexam does not take any responsibility for any harm or loss.This is purely for educational purpose.
NEET-SS FNB Obstetrics Gyneacology mcq exam course
Mentorexam
NEET-SS FNB Obstetrics Gynecology Video Crash Course
Mentorexam
Neet SS FNB Obstetrics gynaecology limited mock test package
Mentorexam
NEET - SS FNB Mch Reproductive Medicine & Surgery Mcq Question Bank Mock Exam course
Mentorexam